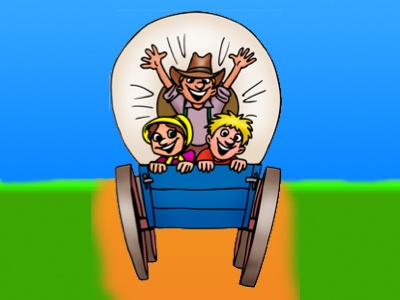 June 20–23, 2016
All children in the Plymouth, NH, area, ages 4 to 12, are invited to attend the most exciting Vacation Bible School in Plymouth at Grace Baptist Church. During the week of June 20-23, (Monday through Thursday) no child will want to miss "Trailblazers," our Oregon Trail Theme VBS.  Monday through Thursday, the adventure will last from 6:30 to 8:30 each night.
Your child will not want to miss our "Trailblazers" Puppet Program. Our puppets will tell the story of two young "pioneers" with their Aunt and Uncle as Trail Guides. They will follow them each night as they ride the trial to Oregon with surprises along the way. Of course, VBS at Grace Baptist would not be complete without visits from Otis and "Wagon Wheel" Willie.
During the week, each child will also be competing in our "Trail Bucks" Contest. Each child will receive a special sticker card to chart his or her progress. The more stickers collected, the more "Trail Bucks" they will earn to "purchase" items from our "Trail Bucks Store." They will get to shop each night for their own personal prizes. Then there will be exciting "Trailblazer Games" like Snooze Ball, Jigsaw, the Perseverance Bucket Brigade, and a special Scavenger Hunt. Don't miss the action and thrills.
But most importantly, special Bible Stories will be told with the help of our BIG Screen Bible-Vision Machine. There will be a special story about the life of the Apostle Peter each night.
And don't forget refreshments! There will be a special treat each night.
Finally, all parents, friends, and relatives are invited to the Commencement Night Program on Thursday night at 6:30 PM to hear the children sing and to take part in all they have experienced. There will be a special Picture Slide Show reviewing the week as well. Special refreshments will be served after the program.
All in all, this can and will be a special week for each child in Plymouth, Campton, Rumney, Wentworth, Ashland, and more. Parents, would you allow us to have the privilege of ministering to your child this week?
The VBS starts each night at 6:30 and ends at 8:30 sharp.  No pre-registration necessary! See you there!
If your child needs a ride to VBS any night or you have any questions, please call the church at
530-2866
.